×
Colour 3D Printing is it all that?
When discussing his famed series of paintings, Water Lillies, Claude Monet said:
"Colour is my day-long obsession, joy and torment. To such an extent indeed that one day, finding myself at the deathbed of a woman who had been and still was very dear to me, I caught myself in the act of focusing on her temples and automatically analysing the succession of appropriately graded colours which death was imposing on her motionless face."
What with Laura's feature on Colour, the latest episode of the podcast and the launch of the 3MF file format with its beneficial colour properties, here at TCT Towers, we feel the impressionist's pain, its certainly become a little bit of an obsession of mine, in particular the definition of "full-colour 3D Printing".
In the podcast Mcor Technologies, who are something of an authority over current full-colour 3D printing, CEO Conor MacCormack stated: "It's not full colour unless you can change colour pixel-by-pixel." I'm inclined to agree.
The truth is there's no steadfast definition of "full-colour" but what we've come to think of the term is essentially what we're used to in the 2D printing world; a photo realistic representation of the colours we see in real life.
Adobe's Mike Scrutton is a man who has worked in colour matching in the super-standardised 2D printing world for two decades, he discussed in his TCT talk how companies like Mcor with their Iris technology, 3D Systems with the ZCorp tech and Stratasys with the latest Connex systems are making great strides towards full-colour in the commercial sphere. However in terms of those countless FFF/FDM desktop printers dotted around the world we're still struggling with maintaining the same pigment of the filament from pre to post extrusion.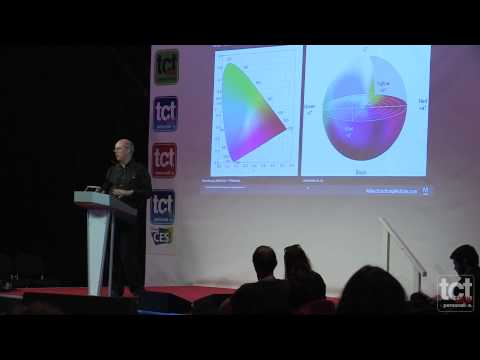 Mike Scrutton at TCT
Now, this is where the 'torment' part from Claude's quote on colour is pertinent to 3D printing. Because there's no steadfast definition of "full-colour" some marketers play fast and loose with the term in describing a certain set of extrusion-based 3D printers. There have been three off the top of my head; botObjects being the obvious one, there was also the unsuccessful 3D4C Kickstarter campaign and now we have NIXTEK's Tomato.
All of those printers take the CMYK approach of mixing four or five separate filaments in the print head and extruding one particular colour. There's no denying that this approach is innovative but it is far from what I and, judging by his quote earlier, an expert like Conor MacCormack would describe as "full-colour". It tends to produce an individual colour per layer (hence all the striped pots) but it is difficult (though not impossible) to perceive this process achieving nuances in the changes of skin tone on a persons face. 
Eric Morcombe would've have perhaps described it as "All the right colours —but not necessarily in the right order." In my opinion, a more accurate terminology for this branch of the technology, as I've seen said elsewhere, would be 'custom-colour'. There is certainly room and I'd say a demand for this type of printing, especially for those who don't want hundreds of spools of filament, changing them each time they require a new colour.  But there's certainly a difference in a model that looks like this:
×
Turtle design printed on Connex
Turtle design printed on Connex
...or this...
×
Flip-Flop Printed on Mcor Machine
Flip-Flop Printed on Mcor Machine
And one that looks like this...
×
Printed on VEXTEK's Tomato
Printed on VEXTEK's Tomato
...and this...
×
Stripy pots from 3D4C
Stripy pots from 3D4C
There's obviously going to be a difference in machines that cost tens/hundreds of thousands and ones that cost just a couple but for buyers who are new to the market it is important to differentiate between photo-realistic full-colour 3D printing and this custom multi-colour 3D printing.
While the colour bugbear is more to do with semantics, one claim I do take particular umbrage with from the NIXTEX's Kickstarter campaign is this:
"FIRST EVER, FULL COLOR PROCESS. HIGH RESOLUTION. DESKTOP 3D PRINTER. #GETTOMATO"
It isn't the first ever printer to print in this manner (mixing filament) or even at that resolution (50 microns) but they're not the first company to make such claims on crowdfunding platforms they certainly won't be the last.
The OTT claims of "full-colour" and "high resolution" are inflating the expectations of the public, inflating them way past what they're used to in the 2D printing world for those two properties, which is why Gartner say that consumer 3D Printing is heading straight for that trough of disillusionment.