×
UMC Utrecht
3D-printed skull
×
GRAPHIC: Dutch doctors give woman 3D-printed skull
Caution. Graphic content.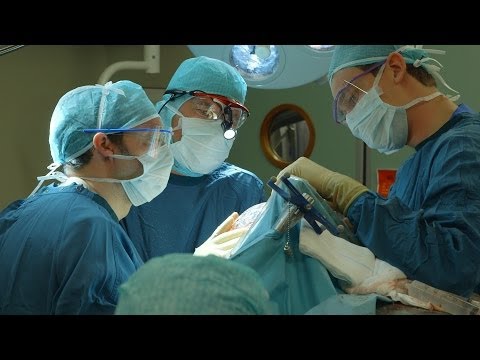 Doctors in the Netherlands have successfully replaced a 22-year-old woman's skull with a 3D-printed one.
The patient suffered from a rare condition that caused the skull bone to thicken. As the skull thickens, this then puts pressure on the brain and in the case of this young adult, her motor skills and vision began to suffer. The condition was likely to be fatal if doctors did not act, Dutch News reports.
Medical practitioners at the University of Utrecht worked for 23 hours to complete the procedure. At the time of the operation, the woman's skull had thickened from 1.5 cm to 5 cm.
Dr Bon Verweij led the operation, in which nearly a full hemisphere of the cranium was transplanted. Previously, 3D-printed parts had been used to replace fragments of skulls.
Speaking to the news outlet, Dr Verweij said: "Implants used to be made by hand in the operating theatre using a sort of cement which was far from ideal.
"Using 3D printing we can make one to the exact size. This not only has great cosmetic advantages, but patients' brain function often recovers better than using the old method."
Doctors waited for three months before they announced the success of the procedure to ensure the patient made a full recovery thereby branding the operation a legitimate success.
Since her pioneering surgery, the patient has recovered her eyesight and has returned to work.
"It is nearly impossible to see she was ever operated on," Verweij stated.
This is just the latest in a string of successful medical procedures where 3D printing has been used. This month, TCT Magazine reported to the successful restoration of a young man's facial symmetry following a motorcycle accident, in which a 3D-printed  titanium implant and 3D-printed cutting guides were used.