×
ExOne
S-Max
ExOne sold 4 S-Maxs in Q3 2013.
×
S-Max Digital Core Production System
This video animation demonstrates the capabilities of ExOne's latest and largest digital part materialization (3D printing) system for sand. The S-Max is the largest sand printer currently on the market with a build size of 1800 x 1000 x 700 mm (70 x 39 x 27 in.).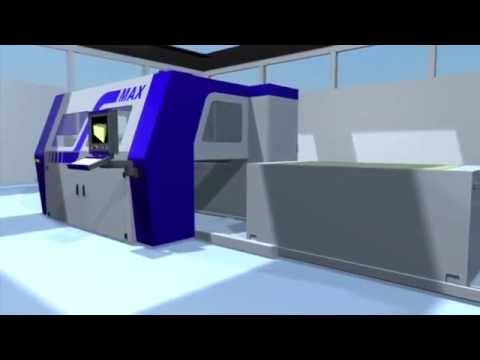 ExOne (NASDAQ:XONE) has reported $11.6 million (£7.2 million, €8.6 million) in revenue for the July-September period driven by the sale of eight of its additive manufacturing machines.
Revenue for the US-based company increased by more than one-third (36 per cent) - or $3.1 million - year-on-year for the third quarter, while ExOne achieved 45 per cent gross margin over the three-month timeframe.
Operating income also rose to $0.3 million fro operating loss of $5.7 million in Q3 compared to last year.
New face
This news came shortly after ExOne announced the appointment of its new Chief Financial Officer and Treasurer Brian Smith, who will be starting the role in the New Year. Current CFO John Irvin - who has been credited with overseeing ExOne's initial public offering and subsequent company financial responsibilities since he joined in October 2012 - will be assuming the role of Special Advisor to the Chairman.
Mr Smith will join ExOne after he leaves his role as an Assurance Client Service Partner with PricewaterhouseCoopers.
Chairman and CEO Kent Rockwell said: "We welcome Brian to our executive leadership team. With over 30 years of professional accounting experience, we believe his capabilities add an additional dimension and breadth to our finance organisation. He brings expertise in public company financial reporting, internal controls, and global financial processes, which are crucial to ExOne in this period of rapid growth. Additionally, we anticipate that his business perspective will contribute to the development and execution of our strategy to increase penetration of the 3D direct metal and indirect sand casting markets using our distinctive binder jetting technology.
"John has been a key member of our leadership team. In addition to his financial leadership, he has been instrumental in a number of key operating initiatives, including the establishment of our Production Service Centers and expansion of our global facilities, critical components in our strategy. We look forward to continuing to benefit from his broad business experience in his new role as we advance our global growth strategy."
2013 Review
The third quarter saw machine revenue represent 67 per cent of total revenue fro ExOne, with this figure representing a 50 per cent increase over the prior-year period. Four S-Max additive manufacturing machines - the largest of ExOne's portfolio - were sold to diverse geographic customers. One machine was sold to customers each in the US, Germany, Russia and Japan. Furthermore, machine sales included orders for S-Print, S15 (refurbished), M-Flex and x1-Lab machines to Japan and the US.
ExOne's Production Service Center revenue rose by 16 per cent over Q3 2012, reflecting ongoing demand for 3D technology, while gross profit for the quarter was $5.3 million - an improvement of $1.7 million compared with the third quarter of 2012. Gross profit as a percentage of sales was 45.2 per cent compared with 41.8 per cent the previous year.
Revenue for the nine months to the end of September 2013 was $28.8 million or 81 per cent compared to the previous year, driven primarily by 3D printer sales and growth in PSC revenue globally. Unfavourable currency translation impacted the comparison by $0.7 million or four per cent.
Year-to-date gross profit soared to $12.3 million, which is up $64 million with the last year's year-to-date period. Gross profit as a percentage of sales rose to 42.6 per cent from last years' 37 per cent.
Operating loss for the period, however, was $2.3 million, which is still better than a comparable $10.1 million from the previous year. Net loss attributable to ExOne was $3.3 million or $0.28 per diluted share.
Outlook
ExOne states that it is still looking to end the fiscal year with revenue at the lower end of its $48 million to $52 million guidance. Gross margin for 2013 will be at the higher end of its 42 per cent to 46 per cent guidance and operating expenses will be in the fatter half of the $18 million to $21 million guidance for 2013.
Underway, the company has approximately $40 million to $50 million in growth investments, including manufacturing expansion and Production Service Center planned for the remainder of this year into next. This includes around $20 million for the recently announced expansion and consolidation of ExOne's German operations of which $5.8 million has been invested in Q3.
Mr Rockwell said: "We continue to aggressively execute on our stated strategic plan — increasing machine sales, expanding our production capacity and Production Service Center network, and building our material and binders portfolio. There are many exciting new projects we are involved with globally. As we look forward to 2014, we expect to achieve our long-term growth targets. We believe ExOne remains distinctively positioned as a leading industrial provider of 3D printing machines and printed products." 
Shortly after market open in New York today (November 14th), ExOne shares rose on the NASDAQ by 4.2 per cent to $61.5 per unit.