×
Deirdre scoops a Stevie Award
Although by no means equal, in comparison to the engineering and manufacturing industries as a whole the 3D printing one has a much better gender balance. One of the top women in the industry is Mcor's Deirdre MacCormack and this week at the Stevie Awards in New York the Chief Marketing Officer's efforts have been well and truly awarded. 
Scooping  silver at the International Stevie Awards for Female Executive of the Year – Business Products, Deirdre commented: 
"This is an amazing honour and I'd like to thank the Stevie Awards, I'd like to thank my husband, Conor, who is my partner in life and in business. We've been on this incredible joinery with Mcor that has taken us from this machine in the front room of our house to being an international business selling 3D printers all over the world. We've doubled in size over the last 12 months and we're only just getting started. Finally, I'd like to thank my mother; they say behind ever great man is a woman but I think behind every great business woman is an even greater woman, that woman is my mother who helps me do my job."
At the paper-based 3D printer manufacturer's Dunleer HQ during Mcor's ten-year celebrations it was clear that though Conor and his brother Fintan may have been the brains behind the technology, Deirdre was the driving force behind the company's growth. Something Conor concurred with during his heartfelt speech in which he thanked both Deirdre and her aforementioned mother.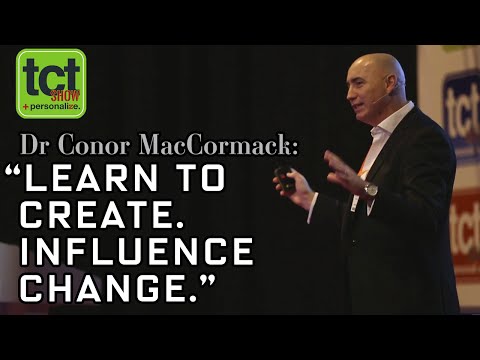 WATCH CONOR'S KEYNOTE AT TCT SHOW 2015
WATCH CONOR'S KEYNOTE AT TCT SHOW 2015
Rose Brooke, formerly of this parish, now Editor of EPPM and, more relevantly for this article, part of our Women in Plastics team, concurred with the opening paragraph's assertions at the 3D printing industry's gender balance adding:  "It's really encouraging to know Deirdre MacCormack is blazing the trail for women in additive manufacturing and has been recognised for her excellent work at the helm of Mcor Technologies. Manufacturing still has a way to go to address its gender imbalance. There are far too few women in boardrooms across the wider sector and we need more companies to follow Mcor's example to change the data and attitudes within the industry."