×
CRDM
King Henry the Eight-year-old
×
King Henry VIII's crown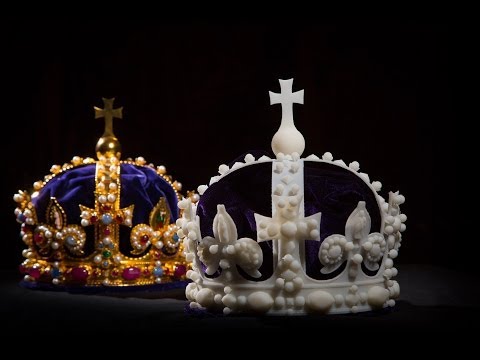 We've gone all regal today at Personalize, following on from the story about Richard III's spine comes the 3D scanning and printing of Henry VIII's crown by the Historic Royal Palaces.
It is an apt story to follow on with, after all Henry VIII's father was the man whose rebellion led to the death of the King in the Car Park. Though the crown that was scanned is actually a replica of the original after Oliver Cromwell destroyed the it in 1649, it is still a priceless object that was recreated by Crown Jeweller, Harry Collins in 2012. The crown is made of silver gilt and holds 344 rubies, sapphires, emeralds, diamonds and pearls and five religious sculptures.
Such is the value of the crown jewels that the public rarely get to see them let alone pick them up but with a helping hand from CRDM, Historic Royal Palaces set about changing that.
The crown was scanned at the Hampton Court Palace using a combination of structured light 3D scanning and cross polarised photography, and following processing of the data into a workable 3D model file, was printed by CRDM using 3D Systems' Stereolithography (SLA) and Selective laser sintering (SLS) techniques.  The crown's delicate shape and fine details made this process a particular technical challenge.
 The printing is part of Historic Royal Palaces' commitment to explore how new digital technologies can take the palaces and their stories to new audiences in previously impossible ways. Future plans for the printed crowns include using them as a tactile experience for blind and partially sighted visitors, as well as for school groups – both for handling, (especially for children with Special Educational Needs) and as a printable code for schools experimenting with 3D printing in the classroom.
 "The crown is such a powerful symbol of Henry and his reign – but historically, it was touched by so few people." Tim Powell, Digital Producer for Historic Royal Palaces said. "It's deeply exciting to be able to use 3D printing technology to put this piece of history into people's hands – and allow them to imagine what it must have felt like to wear something so spectacular and meaningful.  Thankfully this technology wasn't available to King Henry – who knows what he might have done with a few more blocks and axes!'
The model of King Henry VII's crown is also available for you to download on Thingiverse, just don't let him catch you wearing it otherwise it'll be off with your head…