×
Alice Taylor, CEO, MakieLab @ TCT Show + Personalize 2013
When it comes reinventing the boundaries between the physical and digital worlds few come close to London-based startup MakieLab. The company's products combine gaming and user-created unique 3D printed toys in a way that truly harnesses the unique powers of 3D printing. Alice took to the stage at TCT Show + Personalize to let us know how it all happened and why Tech City Insider calls MakieLab "one of London's most admired tech startups".
×
Clément Moreau, CEO, Sculpteo @ TCT Show + Personalize 2013
Getting involved in 3D printing is not as simple as just popping to to your local electronics retailer, picking up a 3D printer and starting to create your own things. Many people cannot design in 2D, let alone 3D, and the parts they will require many different materials. This is where 33-year-old former software engineer Clément Moreau steps in. Formerly at Inventec and Thomson, Clément co-founded Sculpteo in 2009, on stage at TCT Show + Personalize he presented on the theme of Customizable Items Manufacturing, the future of 3D Printing.
×
Richard Horne, Commercial Manager, Heber, @ TCT Show + Personalize 2013
Richard "RichRap" Horne is Heber's Commercial Manager by day and RepRap innovator, experimenter and chief tinkerer by night. Richard's TCT Show + Personalize 2013 presentation '3D Printing for Business and Pleasure' served to bridge the gaps between established 3D printing businesses, the maker movement, developers and designers. He believes 3D printing has something to offer everybody, whether they are firmly rooted in the industrial sphere, or have just set up their own RepRap machine in their garden shed.
×
RepRap Hub
The RepRap community hub was this busy over the two days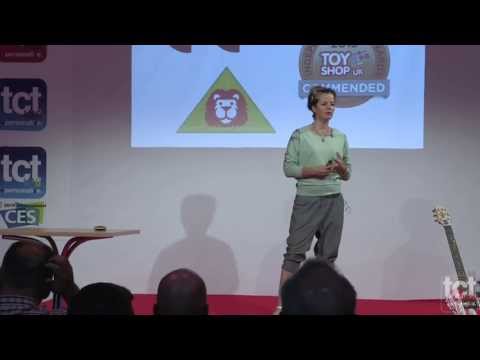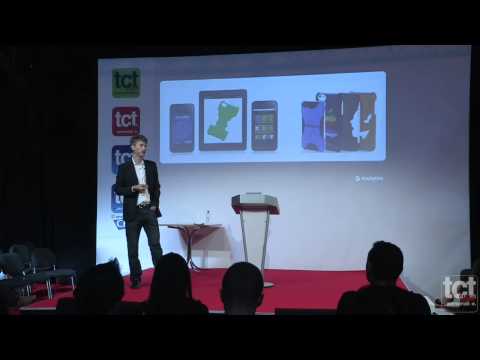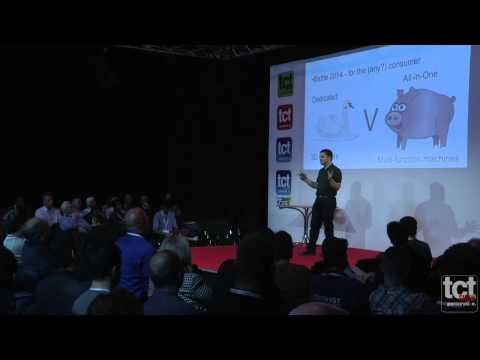 TCT Live 2012 featured the Personalize Pavilion; comprising of makers and consumer 3D printing products it included the likes of MakerBot, MakieLab, Ultimaker and Sculpteo. The pavilion reflected the growing area of the maker communities and consumer products in the 3D printing industry. It is testament to the exponential growth of that sector in the following year that another pavilion would have felt paltry, thus TCT Live became TCT Show + Personalize.
The Personalize section of this year's show was approximately 40% bigger compared to that of the Personalize Pavilion in 2012. You only have to glance at the keynote speakers to see how big this sector of the industry now is, with Clement Moreau of Scultpeo and Alice Taylor of MakieLab shared the stage with the likes of Avi Reichental and Scott Crump.
However, the lines are becoming increasingly blurred between machines for consumers, machines for makers and machines for professionals. Machines like the Replicator 2 and the Ultimaker2 are particularly difficult to pigeonhole into maker machines or professional machines, they sit perfectly as both rapid prototyping devices and as affordable machines for the home.
One community that remain firmly and proudly in the maker corner is the RepRap community, which continues to grow at an almost astronomical rate. Taking into consideration the size and breadth of work of the RepRap project contributes to the industry it only felt right that we handed them their own dedicated space on the show floor.  That space was the the RepRap Hub.
Amongst the many RepRappers exhibiting was one Dr Adrian Bowyer and his RepRap Pro team. Dr Bowyer was the creator of the RepRap project back in 2005 and in true Frankenstinian style his project now has a life of its own. Each RepRapper has their own iteration of how one can produce a replicating rapid prototype; you've got your Prusas, your Mendels, your Huxleys and your Deltas all whirring away at the ubiquitously rammed RepRap Hub.
One of the key players in the RepRap community, Richard "RichRap" Horne was not only exhibiting his 3DR printer but speaking on the main stage too. RichRap was barely able to draw breath at the show – his stand was ten deep throughout the two days - let alone stop for a quick chat, so we've caught with him since to find out how he felt TCT Show went: "The RepRap team had a great response during the show, from all sorts of people, I would have to say it was the most diverse range of people I have seen in the eight years I have been going to the TCT Show and that's a really great thing."
One note we have had from more traditionally industrial exhibitors is that the RepRap Hub drew the attention of the consumers who had little knowledge of the technology but Rich didn't particularly see it like that.  "We were also pleasantly surprised by how much the consumer industry has self-educated on home 3D printing, this year we had really sensible questions, very little hype from people, and generally a greater awareness of what the technology can actually really do, rather than the ridiculous hype the mainstream media churns up."
The success of the RepRap Hub means without doubt it will be back next year, bigger and better. This is great news for Rich and co who've had green eyes from anybody not involved cast their way, "I have been inundated with messages and e-mails, a lot of people from the community really want to take part next year, we also had so many more people attend than most of us managed to see, but they have sent messages of thanks and support. The 3 day show next year will allow more time to see, talk and experience more of the industry and hopefully more people will get to see more of the fantastic talks and presentations."
Rich's presence at the show was to showcase the RepRap project but being, in Rich's words ,"a total highlight on the 3D printing calendar"  the popularity of the RepRap hub didn't go unnoticed in the industry sector either, "I was not there in a commercial capacity but I was very pleased to receive three serious job offers".
This just goes to show how the TCT Show + Personalize truly is an even that encompasses everything from Hackerspace to Aerospace.  If the growth in the maker/consumer section of 3D printing continues to grow at this rate who know maybe Personalize will get top billing?...