×
M.I.A.'s Double Bubble Trouble
×
M.I.A.'s 3D printing on Seth Meyers
×
M.I.A.s' disgruntled tweet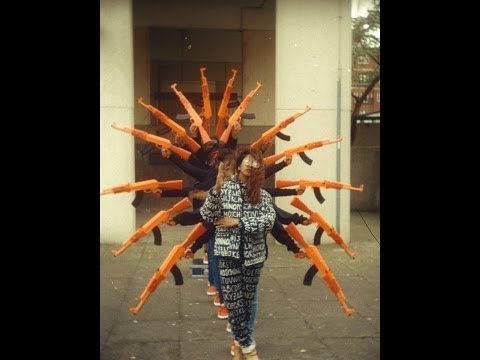 M.I.A. has always been one to court controversy; the video for her song Born Free, which depicted genocide against red haired folk as a metaphor for the violence she was witness to as a child growing up in war torn Sri Lanka, was banned by YouTube; the NFL are currently demanding $16million from her for flipping the bird during the 2012 half time Superbowl show; and now she's using the most controversial subject in our industry as art.
No not, IP infringements or the ethical implications of bioprinting but of course, the Cody Wilson infused 3D printed gun. 
Double Bubble Trouble, or DBT, is the fifth single off her 2013 Matangi album and is the first video she has directed since she directed a video for her former flatmate Justine Frischmann's Elastica's Mad Dog God Dam 14 years ago.
The video starts with news footage of Cody Wilson's Defense Distributed 3D printed weapons and proceeds to depict a dystopian future, in which young adults 3D print their own guns and drones on an Ultimaker 2 in order to battle the 1984-esque government. The video also features the other moral-panic surrounding 3D printing, the instant duplication of keys using the technology.
The video itself was blocked by her record label for the first few days prompted M.I.A. and her twitter army to kick Universal Music Group into submission in order to release the video.
Amusingly, the shootas in the video are clearly not printed on the Ultimaker 2, not dissing the Ultimaker 2 here but they clearly weren't printed on any desktop 3D printer, they're too good and big and too...well, injection moulded.
The resulting headache inducing video takes a little bit of the Nu-rave vibe that M.I.A. brought back and the balaclava and assault rifles carnage depicted in Spring Breakers; the trailer of which, coincidentally used M.I.A.'s first single from this album, Bad Girls.
The precedent for the video was set when M.I.A. appeared on the Late Night with Seth Meyers – Jimmy Fallon's replacement – flanked with two bored looking girls operating the very Ultimaker 2's that appear in the video.
I'm unsure as to whether it is because I am so ingrained in the world of 3D printing and thus slightly bored by 3D printed guns but for M.I.A., who is usually so cutting-edge and on the money, this seems completely contrived. Had this not have been obviously such a work of passion for M.I.A. I might have passed it off on a record label attempting to cash in on a bit of zeitgeist; unfortunately it's neither zeitgeist nor making a political point. Still, with 400,000 YouTube views in one day, Ultimaker must be rubbing their hands.