×
TCT Show Bigger and Better
The TCT Events group is once again set to cement its position as the organiser of the leading brand of exhibitions and conferences in the 3D technologies arena. 
With six months still to go before the flagship TCT Show + Personalize opens its doors on 30th September to 1st October 2015 at the NEC, Birmingham, many organisations have once again secured prime position on the show floor. Exhibition space continues to sell at an unprecedented rate with over 70% of the floor space already allocated with key industry players taking the opportunity to increase their stand size for this year's event.
Since its inception two decades ago, the exhibition has grown year-on-year, covering more floor space to complement excellent conference programmes, a range of superb visitor features and a central hub where exhibitors are guaranteed to do business with the people that matter.
The organiser, Rapid News Publications Ltd, is delighted to welcome back many of the industry's major players including Stratasys, Renishaw, EnvisionTec, Mcor Technologies, ExOne, Makerbot, Solidscape, FormLabs, Materialise, EOS and SLM Solutions who will be joined by debutants including Autodesk, Muncaster Technologies and Mass Portal.
TCT Show + Personalize is the longest-established show in the global portfolio of TCT events dedicated to 3D printing, additive manufacturing and product development for every level of interest from hackerspace to aerospace.
Last year, with over fifty different 3D printing machine manufacturers exhibiting at the event it was by far the most comprehensive array of these technologies ever assembled in one place. TCT also features the full range of supporting technologies and software for scanning, digitising and inspection and for design and manufacturing. Alongside the show floor the conference presents a wide range of internationally recognised keynote presentations from industry leaders, evangelists, commentators and super users who shine the spotlight on the technologies and signpost how they will develop in the future.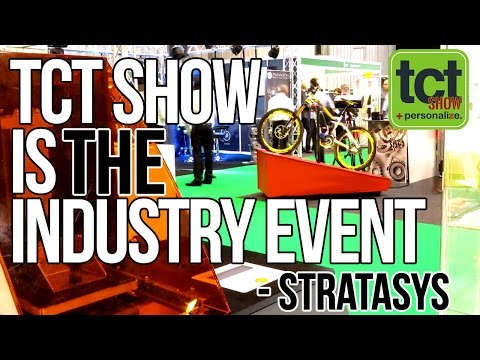 TCT Show 2015
TCT Show + Personalize Event Sales Manager, John Jones, stated, "TCT Show continues to grow year-on-year. This growth is sustained because our exhibitors are safe in the knowledge that when they invest money in TCT Show they will meet the right audience and leave with quality sales enquiries that will lead to business and provide excellent return on investment."
TCT Show + Personalize 2015 takes place at the NEC, Birmingham, UK on September 30th-October 1st 2015.