×
The ketchup problem solved
The mushroom cap only squirts out paste not the watery rubbish.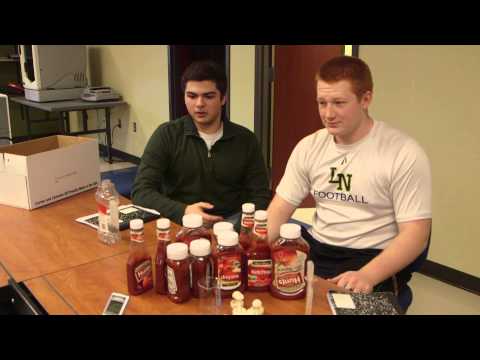 Picture the scene, you've just finished a long day at the office, you're starving, you're heading home and your partner calls "We're having salad for dinner." "Ok, my darling not a problem", you say through gritted teeth. Then you pick up a scent, the scent of the hot dog stand you walk past every day, 'she'll never know' you think to yourself.
You pay the man and you can't wait to shove it all in your mouth but there's two vital ingredients you need, ketchup and mustard. You pick the crusted condiment bottles up and with you're eyes firmly on the juicy, delicious and steaming hot prize you begin to gently squeeze and pour the ketchup… RUINED! Ruined because you forgot to shake the bottle, death by watery plasma like substance all over you bun, you've now got a disgusting soggy bun with a luke warm sausage shaped selection of sheep's eyeballs and innards. All because you forgot to shake that blasted bottle!
Tyler Richards and Jonathan Thompson both 18 years of age feel your pain, but they're just slacking and allowing this atrocity to happen to millions of people on a daily basis, they're here to change things up all with the help of that popular little technology, 3D Printing.
During a class Project Lead the Way class the two were asked to solve a problem that really bugged them, their mutual love of ketchup both brought them to the same conclusion. They needed to find a way to get rid of that watery rubbish that had ruined so many meals.
The two went through a total of 60 iterations before coming up with "the 'shroom", which uses the same principles as a toilet bowl. The water sits at the bottom of the mushroom stem and ketchup is pressured up the tube and out of the cap.
This wasn't just a whim either, this was a year-long project that went through all the stages an actual product must go through, doubt from the powers that be, market research – where they discovered they could manufacture for about 23¢ and sell for $3, CAD (though they missed a trick by not calling it S-ketchup...) and the prototyping process, for which they used the school's Stratasys U-Print 3D printer.
Project Lead the Way is the US's leading provider of STEM programs and this particular class 'PLTW Engineering Design and Development' encourages children to apply science, maths and engineering to solve real world problems. This ketchup bottle cap is proof that having 3D printing in education will bring a whole host of inventors to the forefront.