×
The Death of Consumer 3D Printing
Are we witnessing the death of the consumer 3D printing dream?
Yesterday's news of Avi Reichental's departure from 3D Systems came as quite a shock. Avi has keynoted for TCT twice and been a huge part of the industry we're very privileged to be writing a magazine about.
Avi's departure after 12 years at the helm was announced yesterday, both 3D Systems and Avi say the split was mutual but the fact that a replacement wasn't lined up and that the share prices hit a four-year low the day before he left, suggests that though this parting may have been mutual it  was sudden.
Avi oversaw a period of unprecedented growth at 3D Systems, which saw share prices rise from under $3 when he took over in Sep '03 to an incredible $96 in Jan 14. After that peak the share price has been in steady decline and at the time of his departure sat at $10.26, the bursting of the bubble was inevitable but the rate of reinflation has been deflating.
×
3DS' Share Price during Avi's reign
3DS' Share Price during Avi's reign
Lead 3D Printing Analyst at Canalys, Joe Kempton commented: "Avi pioneered a lot of the media hype around 3D printing and that has been to a benefit of the industry as a whole but it also raised expectations, which led to the mass fall in share prices; in way he's been a victim of his own evangelism."
"In a way he's been a victim of his own evangelism." - Joe Kempton
That evangelism meant that Avi was a captivating figure to listen to, talk to and watch. His charisma drew you in and it was on a tour of the 3D Systems' booth at CES 2014 that this editor was completely bowled over by the company's offerings. Ironically, Avi's departure may have something to do with that very event, which saw 3D Systems launch a series of machines, share prices peak and, at a later date, investors quote in a class action lawsuit for weak earnings.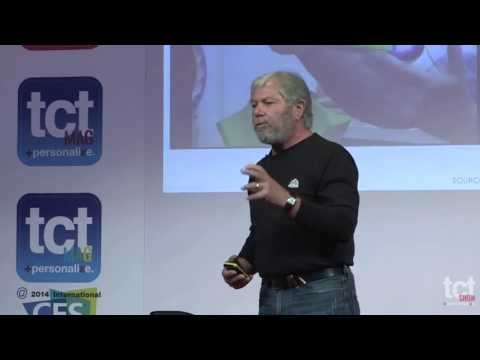 Avi's Talk at TCT Show 2013
Avi's Talk at TCT Show 2013
At CES 2014 3D Systems launched its 3D PRINTING 2.0 initiative in which the company announced in excess of 12 new products aimed at the consumer sector. A number of those products were either delayed or failed to launch, most notably the CubeJet - a sub $5,000 full-colour printer based on Z Corp technology - and the CeraJet - a ceramics printer designed on top of the acquisition of Figulo -  both those machines were pencilled in for a 2014 launch, neither has made it to market at the time of writing.
It isn't just 3D Systems that has suffered from the false dawn of consumer 3D printing, Stratasys were also hit with a class action lawsuit for weaker earnings following the $110m hit they took after the acquisition of MakerBot, who also launched a host of new products CES 2014, which initially struggled at launch with technical difficulties.
"The lawsuits are a symptom of the general issues that are being seen with the major 3D printing vendors" said Canalys' Kempton. "3D Systems and Stratasys have had similar issues, the bigger vendors struggle in the consumer sector because they are operating at a higher price point than a lot of the smaller companies entering the market. Avi probably realised that it is time for 3D Systems to try a different management approach."
Despite the poor recent financial results, it could be argued that Avi's charisma has done more for the profile of the industry than any other leading figure, without people like him and Bre Pettis boardroom doors may have remained closed to the idea of 3D printing and now they are firmly ajar. The pair both shared a vision for a 3D printer in every home and it seems to be this dream that has seen the pair leave their positions as industry figureheads.
It wouldn't be a huge surprise if the new management team came in and commenced a cost-cutting exercise not unlike that of Jonathan Jaglom's cuts at MakerBot, particularly in the consumer section of the business, which begs the question what will happen to the Cubify brand?
"They're either going to have to dramatically reduce the price point or really improve the eco-system." Says Kempton.