×
3D Printed Medical Models help to battle cancer
As far as applications of 3D printing go the medical ones are probably the best and worst described as the "killer" app. Best because the benefits of 3D printing – ability to produce custom, low volume parts at no additional cost – suit medical applications and worst because it the exact opposite of killer, it is a life-saver.
Another magnificent example of the technology being used to have a beneficial impact in the world has come out of the Institute of Cancer Research in London, England, who developed a medical modelling system to detect the real-time impact radiography is having on cancer patients' tumours.
Researchers have used 3D printing to produce replica models of tumours and organs, which help calculate precisely how much radiation has been delivered to the cancer and therefore how subsequent doses can be adjusted accordingly.
Initial tests at The Institute of Cancer Research, London, and The Royal Marsden NHS Foundation Trust found the models allowed the dose of radiation a patient has received to be calculated more accurately – allowing subsequent doses to be adjusted accordingly.
Tests at The Institute of Cancer Research, London, and The Royal Marsden NHS Foundation Trust found are aiming to improve molecular radiotherapy – in which doctors give a patient a radioactive drug designed to target a tumour, and aim for a dose high enough to kill cancer cells but not so high that it damages healthy tissue.
The replica tumours and organs – known as 'phantoms' – were filled with the same radioactive liquid administered to patients and monitored to mimic the likely effects of radiotherapy in that individual patient. Originally, the models were hand made but the 3D printing was not only quicker but also more accurate.
Dr Jonathan Gear, Clinical Scientist in the Joint Department of Physics at The Institute of Cancer Research, London and The Royal Marsden NHS Foundation Trust, said: "The big challenge we faced was to produce a model that was both anatomically accurate and allowed us to monitor the dose of radiation it received. We found that the printed replicas could give us information we couldn't get from 2D scans – you will always get more information from a 3D model than a flat image.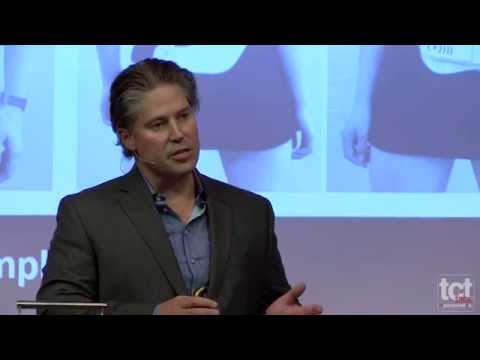 Andy Chistensen: 3D Systems VP on how 3D Printing is changing the game in Healthcare at TCT Show
Watch a great talk from TCT Show on medical modelling 
"Our research is aiming to find new ways to fine-tune the amounts of radiation given to patients as part of their treatment. There's no reason why in the future, treatment planning can't incorporate 3D printing technology to help improve radiation dosing for patients."
Dr Glenn Flux, Head of Radioisotope Physics at the Joint Department of Physics at The Institute of Cancer Research, London, and The Royal Marsden NHS Foundation Trust, said: "We've seen reports on how 3D printing is being used for prosthetics and to inform surgery, and this research shows it has the potential to improve cancer treatment too – by helping us to perform complex radiotherapy calculations more accurately. We're really excited by this technology and the potential it has for personalising cancer treatment with highly targeted radiation."