×
Optomec
Optomec LENS component repair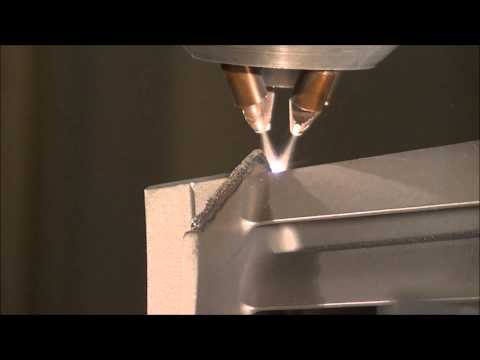 The very latest advancements in additive manufacturing technology will be presented at RAPID by Optomec.
Ken Vartanian, Vice-President of Marketing for the global supplier of 3D printing systems for production applications, it set to take to the stage today (June 11th), to give his talk in the Final Part Production conference track at 11:30 local time.
Entitled 'Using Additive Manufacturing to Add Value to Products Produced with Conventional Manufacturing' Vartanian seeks to explain how the technology can be used to add material to existing products, dispelling the convention for additive manufacturing to be used solely to make parts from scratch. This process, Optomec claims, could add great value to so many products, not to mention save money and manufacturing time.
This subtle shift in how businesses approach additive manufacturing could broaden the scope of additive manufacturing solutions for many industries, thanks to the system's ability to 3D print with structural metals, conductive metals and a wide array of other functional materials such as plastics.
Vartanian will also detail those additive manufacturing technologies capable of adding materials to preformed objects and application examples with evidence of the benefits of using this technique.
In addition to the presentation, Optomec's exhibit (booth #1118) will showcase both LENS and Aerosol Jet Printers. 
Optomec LENS 3D Metal Printers
Optomec LENS 3D Metal Printers are used to cost-effectively repair, rework and manufacture high-performance metal components in materials such as titanium, stainless steel, and super alloys. LENS printers use the energy from a high-power laser to build up structures one layer at a time directly from powdered metals. The resulting fully functional metal structures offer excellent mechanical properties, similar to forged components for many applications. LENS printers are used throughout the entire product lifecycle for applications ranging from Materials Research to Repair and Rework to Low Volume Manufacturing. For more information on LENS printers, click here.
Optomec's Aerosol Jet Printers
Optomec's Aerosol Jet Printers are used to directly print functional electronic circuitry and components onto low-temperature, non-planar substrates, without the need for masks, screens, or plating. The Aerosol Jet process utilizes an innovative aerodynamic focusing technique to collimate a dense mist of material-laden micro droplets into a tightly controlled beam to print features as small as 10 microns or as large as several millimeters in a single pass. A wide assortment of materials can be printed with the Aerosol Jet system including conductive nano-particle inks and conductive polymers, dielectrics, conductive epoxies, ceramics, and bio-active materials. Aerosol Jet systems are used to print signal and power circuits, embedded sensors, conformal antenna, fuel cells, and to dispense conductive adhesives for solder-free attachment of integrated circuits and other components. For more information on Aerosol Jet printing, click here.