×
Stratasys
Stratasys Makerbot Merger
×
Scott Crump, Chairman/CIO, Stratasys @ TCT Show + Personalize 2013
Scott Crump is part of an increasingly exclusive sub-group within the 3D printing and Additive Manufacturing industry  — technology inventors that have led their companies from the very start. As the inventor of Fused Deposition Modelling Scott's influence has penetrated every corner of the burgeoning 3D printing industry from the most accessible extrusion-based machine, the global Rep-Rap community right through to production systems used in high-tech industries around the world. Scott shares the story of how he got involved — and why he has remained involved — in 3D printing for so long and how he sees the dramatic expansion of the technologies continuing.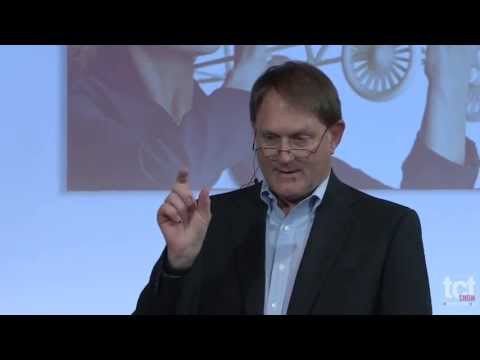 Stratasys (NASDAQ:SSYS) has reported impressive financial results for the third quarter of 2013 as its acquisition endeavours continue to bear fruit.
The 3D printing industry giant has reported non-GAAP revenue of $126.1 million (£78.44 million, €93.28 million) and generated 26 per cent in organic revenue growth year on year.
The company has boasted that its "record results" represent a 39 per cent increase over the £90.9 million Stratasys and Objet pro forma combined revenue for the same period in 2012. These latest figures for the July-September period include revenues from MakerBot from August 15th - the date the acquisition of the famous desktop 3D printer manufacturer was officially completed.
GAAP revenue including MakerBot for the third quarter was $125.6 million, while non-GAAP revenue from MakerBot came in at $11.6 million for the three-month period. GAAP revenue contributed from MakerBot for this timeframe was $11.4 million.
CEO of Stratasys David Reis commented: "Organic revenue growth accelerated in the third quarter as synergies resulting from the merger between Stratasys and Objet continued to develop.
"We observed strong growth across multiple product lines that address an expanding range of applications. We also sustained strong gross margins during the period, which was a contributing factor to our record profitability. We are especially pleased by the contribution made by MakerBot, which added $11.6 million in revenue during the period. We are very pleased with our third quarter results."
Non-GAAP net income including MakerBot was $20 million for Q3, or $0.45 per diluted share, while GAAP net income including MakerBot for this period was a loss of $6.6 million ($0.16 per share). This is against a Stratasys and Objet pro forma loss of $2.8 million for the same period last year.
Stratasys has not rested on its laurels after tying up the MakerBot deal, as it has invested $12 million in research and development over the July-September period, representing 9.5 per cent of net sales.
On top of this exciting acquisition - which has proved to be one of the biggest 3D printing stories of the year - over the third quarter Stratasys introduced two new systems, the Solidscape 3Z MAX 3D printer and the MakerBot Digitizer Desktop 3D Scanner in addition to two new materials for the MakerBot platform including flexible filament and a dissolvable support material.
Reid continued: "With the completion of the MakerBot acquisition in the third quarter, we believe Stratasys is now the clear leader in the desktop 3D printer category, one of the fastest growing segments within our industry. The third quarter also demonstrated our commitment to internal product development, as well as our goal of expanding our global customer reach. In addition, as the mainstream adoption of 3D printing continues to gain momentum, we have strengthened our balance sheet, improving our ability to capitalise on additional growth initiatives and acquisitions."
Stratasys has initiated a pilot programme with UPS Stores placing uPrints in six locations, allowing UPS Store customers to print their designs in 3D on site.
The business has also extended its reach overseas, investing heavily in global sales and signing a distribution agreement with Aurora Global, a leading provider of office automation equipment in China. Furthermore, it exercised an option to acquire the remaining holdings from Fasotec in Stratasys Japan, with Stratasys Japan becoming entirely owned and operated by Stratasys Ltd.
Finally, the company completed a public offering of 5,175,000 ordinary shares at a public offering price of $93.00 per share, with net offering proceeds to Stratasys approximating $462.9 million.
The company's overall outlook for the final quarter of 2013 has been given a boost and this is reflected in Stratasys' upward revision to 2013 revenue guidance. The organisation's updated financial guidance for the fiscal year ending December 31st 2013 stipulates revenue guidance of $470 million to $490 million - which is up against a previous guidance of between $455 million and $480 million.
"As we enter the fourth quarter, we believe the acceleration in our organic growth rate, combined with the positive impact from our recent acquisition of MakerBot, will contribute to a strong finish to the year. Looking beyond 2013, we are well positioned to sustain our positive momentum as we accelerate our rate of new product introductions, and prepare to capitalise on additional inorganic growth opportunities. In addition, our industry remains ripe for growth as new and innovative applications continue to emerge for our technology. We are very excited about the future," Reis concluded.
For more insights into Stratasys' business strategy and the 3D printing industry in general, watch the company's Chairman and CIO Scott Crum's TCT Show + Personalize keynote speech here.