×
Wood composites
There are a few variations of the wood composite thermoplastic all with similar wood to plastic ratios. By varying the temperatures you can get different colourations. The handle in the photograph has been smoothed and painted by G+ 3D Printing community member Carlo De Mattia and shows the capabilities of creating beautiful objects in this material.
The Wood Composite used in this particular print is Wood Pulp by Stick Filaments.
×
Ninjaflex
Without Ninjaflex Buttercup the duck would not have a 3D printed foot. Mike Garey Buttercup's carer/personal prosthetic manufacturer says that other flexible filaments do not survive rigours of waddling on a daily basis. Ninjaflex was developed by Fenner Drives to be used in-house for prototypes but they were so impressed they opened the product out to market and it is now available in five colours.
×
Laybrick and Lay-Ceramic
Kai Parthy is the force behind many new filament developments, he originally started playing around with composites in order to find a material that would not warp when he was printing. His most popular composites are certainly his two wood based thermoplastics but his most unusual are these two. Laybrick gives a very rough sandstone finish and Lay-Ceramic has a porcelain that can be fired and glazed like clay.
Laybrick is readily available to buy but Lay-Ceramic is still very much a work in process. 
×
taulman3D
Taulman3D Bridge
It would be remiss of us to not include taulman3D when talking about the latest developments in materials for extrusion-based 3D printers. taulman3D have been developing new filaments for a few years now and their latest Bridge material is the best yet. Based on their popular Nylon 645 this filament has been researched and developed to the nth degree. Bridge solves pretty much all of the problems encountered when printing with Nylon such as adhesion to the platform, shrinkage and a certified measurement of strength.
×
PolyMorph by PolyMakr
Polymakr recently ran a very successful Kickstarter campaign recently for their new and improved PolyMax PLA a superior form of PLA for 3D printers. However when you look more closely at their website there's a more unique project going on. We were introduced to Polymakr by Mike Garey of Buttercup fame before they launched their Kickstarter campaign on their site they had a material called PolyMorph. PolyMorph or whatever it ends up being called, is briefly mentioned in their What's Up Next section on Kickstarter: "Stimuli-responsive printing materials (imagine printing things that can change shapes when you heat them)". It appeared to Personalize that you were able to manipulate PolyMorph post printing into another shape only for it to return to printed state when heated…. Sounds crazy.
×
Carbon Fibre
Another material out of the "Not satisfied with the current materials market so we'll make our own" stable is ProtoPlant's ProtoPasta filaments. The selection includes three highly tested filaments: Carbon Fiber PLA, High Temperature PLA, and Polycarbonate ABS. The Carbon Fibre PLA is, as one would expect, a composite made with chopped Carbon Fiber and designed to be stiffer than traditional PLA.
×
Straw
Sorting the wheat from the chaff is Jiangsu Jinghe Hi-Tech Co. who have developed a filament made from wheat straw, rice straw, or corn stalks mixed with the thermoplastic polypropylene. Jiangsu claim that the material could half the cost of PLA filament spools at the same time as halving the carbon emissions required for production. If true, this filament, which has a soft and clean finish when printed, could become very popular, very quickly. 
×
Seaweed
Keeping up with the eco-friendliness of the Straw filament on the last slide is Le FabShop's seaweed-based filament produced in collaboration with Algopack. Algopack have been working on developing a sustainable plastic from seaweed for a number of years and a partnership with Le FabShop has seen them turning that plastic into filament. The filament is akin to that of its biodegradable bedfellow PLA and le FabShop had it printing on a MakerBot Replicator 2.
×
Hyrel's many materials
Moving away from materials designed specifically for 3D printing the Hyrel 3D takes a markedly different approach. They were not only unhappy with the selection of materials available but the hardware too. So they made a printer that could cope with allsorts of materials. There's videos of them printing with the self setting rubber Sugru, air-dry modelling clay and in the video to your left Play-Doh, Plasticine and Clay! 
×
Wool
Though not strictly for home 3D printers yet, a development by Disney Research Pittsburgh and the Human-Computer Interaction Institute at Carnegie Mellon has seen a new 3D printer able to print cuddly teddy bears on demand. The machine is a sort of 3D printer crossed with a sowing machine that takes CAD data and wool/wool-blend materials to create three-dimensional layered soft objects.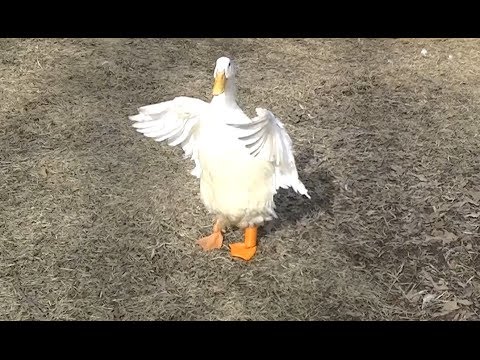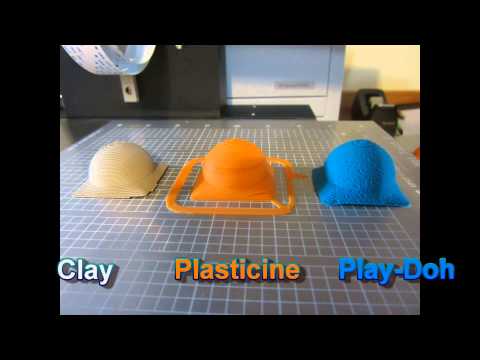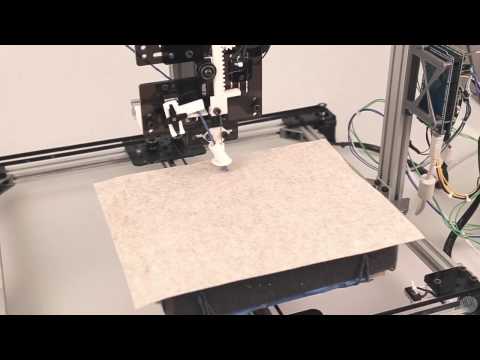 Just over a year ago when I used my first desktop 3D printer there were two materials PLA and ABS, that was it. There were the guys over at RepRap trying all sorts of new materials out, but nothing new had hit the mainstream. Just 12 months down the line and everyone has heard of composite thermoplastics such as Woodfill and flexible filaments like Ninjaflex.
So here's a gallery of ten types of filaments you can now run on most open-source home 3D printers and what you might use them for.