×
RedEye Lockheed Martin tank
Machining the 3D printed Lockheed Martin tank simulation at RedEye.
×
Machining 3D Printed Tank Simulation
Combining 3D printing with traditional manufacturing—Machining the 3D printed Lockheed Martin tank simulation at RedEye. 
Read the full case study here: www.redeyeondemand.com/3d-printing-case-­studies/lockheed-martin-3d-printing/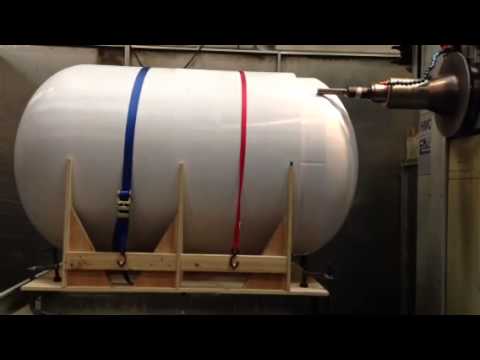 International aerospace and defence giant Lockheed Martin has been utilising 3D printing for a simulation project with the technical support of Stratasys' existing digital manufacturing organisation RedEye.
Lockheed Martin's Space Systems Company (SSC) designs, develops, tests, manufactures and operates a range of advanced technology systems for national security applications, as well as both civil and commercial clients. Two years ago, SSC started investigating how to improve and add value to its satellite design with the end goal being to design a satellite that could make more efficient use of space and increase the object's payload. This would require both testing assembly configurations and producing numerous simulators and prototypes to validate design changes. One change that needed o be validated in this process was the satellite's fuel tanks.
Prior to building the fuel tanks, Lockheed Martin needed to test the form, fit and function using simulators, but producing these test parts using traditional techniques would be unfeasible given the timescale and cost limitations. Machining two tanks would take around two months and some $250,000 (£147,300, €179,300) in investment, which is why the defence giant looked to fused deposition modelling (FDM) technology from Stratasys to produce the simulators.
This large-scale 3D printing technology patented by Stratasys Co-Founder Scott Crump would be used to build numerous parts forming the simulators and each part would require expert finishing, which is where RedEye's aerospace team come in.
Lockheed Martin is au fait with 3D printing and is considered a leader in additive manufacturing for aerospace applications, owning numerous industrial printers, but this project required parts of such size and precision that it would be too difficult to complete in-house. RedEye has partnered with Lockheed Martin on several occasions in the past which made them an easy choice for the SSC team, who were confident the Stratasys subsidiary would deliver high quality parts within the timeframe.
Senior Manufacturing Engineer at Lockheed Martin SSC Andrew Bushell said: "We chose RedEye because they have the machines and finishing capabilities to build tanks of this size. We also decided to go with RedEye for their speed and engineering support we had received on past projects."
RedEye may be familiar with Lockheed's projects, but the team was not prepared for the size of this particular build.
Strategic Account Manager for Aerospace and Defence at RedEye Joel Smith commented: "These are the largest parts we've ever built using FDM. We completed an extensive design review to determine the best orientation and slice height to ensure we could accurately build and bond the sections together in post processing and meet Lockheed's dimensional requirements."
The project required many preliminary meetings between Lockheed and RedEye, as it was the first time building a design of this magnitude. The larger of the two tanks, it was decided, would be built in 10 sections, while the smaller would be made in six sections in polycarbonate on the Fortus 900mcs.
As is usual with such projects, both RedEye and Lockheed had to adapt and adjustment the plan as they went to suit the technology.
Trevor Stolhanske, Aerospace and Defence Project Engineer at RedEye, said: "We decided to alter the orientation of the exterior clocking rings that go around the tanks and increase their wall thicknesses to support inserts."
Each section of the tanks took 150 hours to build, so RedEye built multiple sections simultaneously, maximising lead times and controlling costs. After all of the sections were complete, the support material was washed away and the sections were sent to finishing services for bonding.
Because of their round shape and weight, the only way RedEye could successfully bond the tanks was to build customised fixtures to hold the sections while fusing pieces together. After several hours of welding each section together, RedEye sanded the tank seams and surfaces. After finishing, the tanks and rings were sent to Hutchinson Manufacturing, Inc. to be machined to the design's critical dimensions. When RedEye received the tanks from Hutchinson, they added brass inserts to the rings and assembled the tanks per Lockheed Martin's specifications.
"These tanks were built in a fraction of the time it would have taken with traditional manufacturing methods. Even with the machining process and design changes made along the way, we were able to deliver these parts ahead of schedule," said Smith.
The tanks went through a number of quality assurance and accuracy measurements and were approved for the first concept assembly. SSC performed form, fit and function testing as well as process development, in order to validate the proposed design changes.
Next, Lockheed will take what the team learned from the first phase and use the information to optimise the design and assembly to print the second iteration of tanks.